Campaign photoshoot in Norway
I was quite happy with the campaign shoot, and we got a lot of nice images. It was a first time client, and a first time team I worked with. Two models flew in from Oslo, the capital of Norway, one took the train from Kristiansand, and one came by car from Stavanger. They were all very nice, but with varying experience. The budget only allowed for semi-professional models, so that was obviously a restraint in the production. But one has to keep in mind that these models still expected to get paid more or less double of what I pay professional models in Bangkok, Thailand.
My home country, Norway, is arguably the most expensive country in the world. It is an amazing place. But you need to throw money around if you want to come here. I was glad to be able to give my client the opportunity to shoot in Norway, without breaking the bank. I also gave some fresh models a nice professional experience and they will get some images the can use for their portfolio. They did a great job, I must say.

The equipment I used was my Nikon D810 with my lightweight Nikkor 50mm 1.4. I am no longer in love with this lens, although it is ten times lighter than my Nikkor 24-70mm VR, and favorite workhorse. I used to like prime lenses a lot before, being able to create beautiful bokeh and super sharp images without paying too much for it. But working with top of the line glass, like my other lenses, in combination with a very low tolerance for loss of focus when you work under commercial pressure, it is quite frankly not good enough anymore. It also focuses a bit slow, and even when you tighten the aperture to 4,5 it still misses focus sometimes when you are few meters away from your subjects.
You also get used to the luxury of VR (vibration reduction) that this lens does not have. Basically, I only use it when I travel, or on the rare occasions where I really need the 1.4 aperture to suck in more light. On this shoot, I had my aperture around 4.5 and 5, but still, the images feel a bit soft at times.
I decided to use a speedlight in the end, just to create a little pop on the subjects. It had been raining since early morning, but it stopped, minutes before we started shooting, just at the weather forecast predicted. Since it was a complete overcast, I wanted to use the flash to counter the very flat daylight. It was a Fall/Winter campaign, so the weather was otherwise fine.
The initial photo in the blog post is from the first photo session we did. It was an amazing atmosphere. The salmon waiting at the entrance to the river, just under the bridge where the photoshoot was happening, was jumping frantically to shed the lice that inevitably attaches to the salmon when it swims in the oceans. Today was the first day of rain in almost 2 months, and the yearly flooding of the river, enabling the salmon to run, and spawn in the river, had been delayed for many weeks. You could hear them splashing, and i wanted to go get my fishing rod.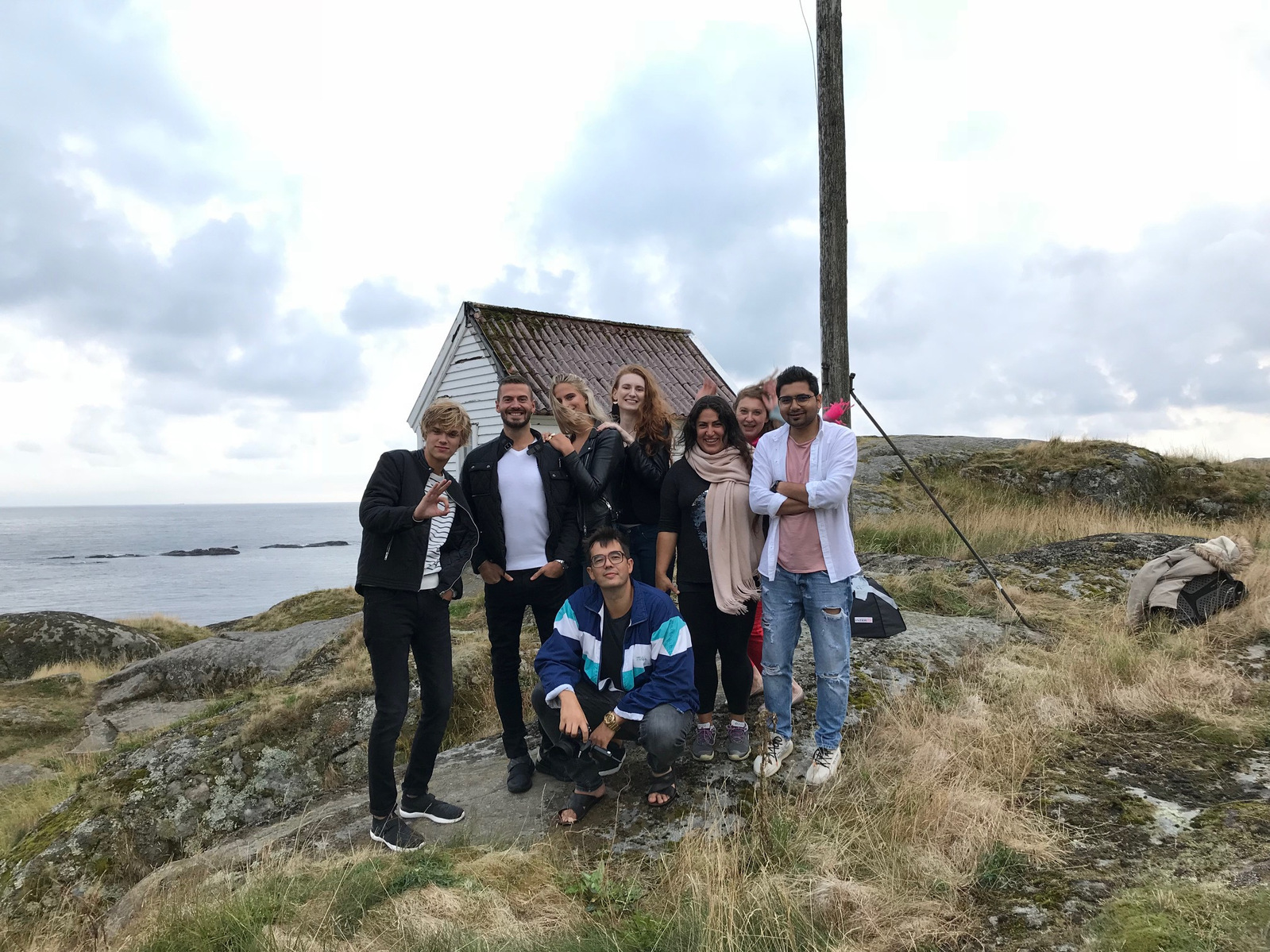 Mid day we took a break, and the whole crew, models and all, went to my familys summerhouse to have lunch my mom had prepared in advance. My family thought is was quite a spectacle, and fun, having all these people in our kitchen. After we finished our shoot, two of the models actually spent the night there, as the flight was not until the next morning, and we would have missed the last flight that night, considering it is a 2 hours drive to the airport. They did not seem to mind. Like i said, and as you hopefully can see from the pictures, its a beautiful place. I will post some photos here from the campaign when it launches all over India on september 12th. So make sure you check back in. Or you can follow me on IG @benzanderphoto where I also will post some photos from this shoot.
I think this concludes my blogging from Norway this year. Next time I thing i will write about professional vs non-professional models, or about how clients can risk sabotaging their own fashion shoot - from a photographers point of view. Both entries will be constructive and hopefully interesting. Take care.